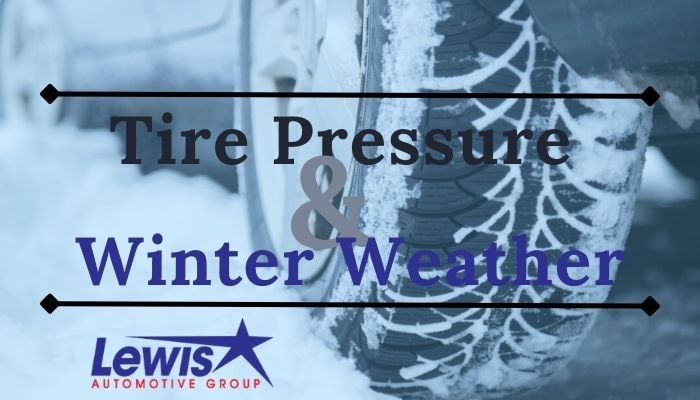 While the snow from our last weekend snowstorm in Fayetteville, AR might still be on the ground, it's a good reminder to make a few necessary checks on your vehicle. You probably want to take care of any issues you've seen with your Jeep, new RAM truck, or Dodge and Chrysler vehicle now, before the next bit of unpredictable Ozark weather decides to come through the NWA area again.
When the temperatures begin to drop again, there's a few other things that can drop as well. One of those is the air pressure in your vehicle's tires. Something to learn about tires, if you didn't already know, is that tire pressure can drop by 1 to 2 lbs per square inch (PSI) for every 10-degree temperature drop. Along with the drop in pressure, you may have also noticed the tire pressure monitoring system (TPMS) indicator light on your dashboard coming on much more often in the colder months. If you're not familiar with what a TPMS light looks like, it's a front view of an underinflated tire (although a lot of people report it looking more like a goldfish bowl), with a large exclamation point in the middle.
Our Service Department experts at Lewis Chrysler Dodge Jeep RAM recommend, along with manufacturer guidelines, that you check your tire pressure frequently during cold winter months, along with any time your TPMS light is activated on your dashboard. When the temperatures drop down to extreme lows, it's recommended to get into the habit of checking the pressure at least once a month, if not even every day before you're getting ready to leave for the morning (at least when it's below freezing temps). Your TPMS light will usually come on in the morning, when temperatures are at their lowest for the day.
For the safety, tire health, and gas mileage of your vehicle, you'll want to make sure your PSI is at the correct level on all four tires. The best place to determine the manufacturer recommended PSI level for your vehicle's tires is generally on the VIN sticker on the driver's side door jam, or in your owner's manual. Having your tires underinflated can reduce your gas mileage by about 0.3 percent for each PSI drop in pressure across all four of your tires. You can enhance your gas mileage by 3.3 percent with properly aired up tires, which can save you a bunch of money for not a lot of effort!
If your car was manufactured in the last five years, your TPMS may not be as sensitive and may not let you know that your tire pressure is low until they're extremely under-inflated. We'd recommend you begin the habit of regularly checking your tire pressure, having your tires checked and inspected periodically, and be ready to air them up when necessary, especially during extreme temperature changes.
If it's time for a new set of tires, or you'd like a tire and TPMS sensor inspection done by a Mopar and factory-trained technician on your current set, give Lewis Chrysler Dodge Jeep RAM's Service Department in Fayetteville a call and set up your hassle-free service appointment! We're happy to help and are ready to serve all our customers in Fayetteville, Springdale, Centerton, Rogers, Bentonville, Eureka Springs, Prairie Grove, Bella Vista, and everywhere else in the surrounding Northwest Arkansas area. Give us a call at (479)316-6335 today and let our trained professionals handle all your vehicle's tire needs!