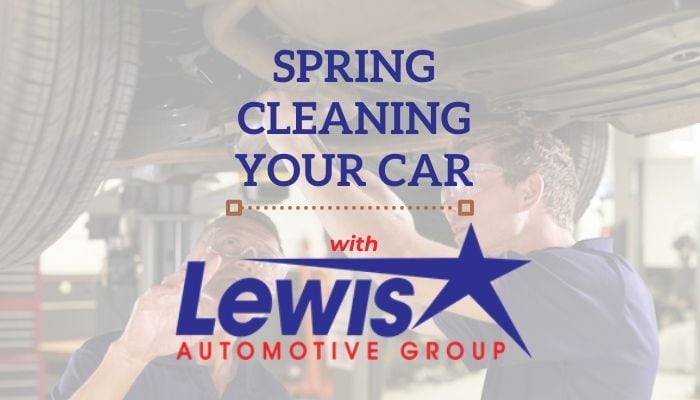 The sunny last few days in NWA are your reminder that it's the perfect time to start spring cleaning. One area that you don't want to neglect, outside of your home, would be your vehicle. Keeping your main mode of transportation in great working order, up to date on anything safety related, and cleaned up will make any trip you've got to make that much better. Whether that drive is to and from work, sitting in the pickup line at school, planning a family trip for Spring Break 2022, or anything else you use your Jeep vehicle for, you can have an even better trip with a vehicle that is cleaned up and safe.
Lewis Chrysler Dodge Jeep RAM in Fayetteville has a full service department at their Mopar-certified service department, and we wanted to pass along a few tips and tricks to spring cleaning your car that we've picked up in our 75+ years in business to get it to its best possible condition for you. This is the perfect time of year to get everything up to date, especially after the toll that winter conditions and salted roads can take on a vehicle.
Change your oil. The winter-to-spring transition is one of the best reminders to get your vehicle's oil changed, and for an extra bang for your buck, you can ask for a high-quality synthetic oil to be used to keep your motor running as smoothly as possible.
Check all other fluids. While you're having your oil changed, it's the perfect time for a trained technician to check the quality of other fluids under the hood, like brake fluid, transmission fluid, and even the windshield-washer reservoir so you can easily clean the spring bugs and pollen out of your view while you're driving around the Arkansas area.
Rotate your tires. A tire rotation is standard vehicle maintenance that can sometimes be overlooked. The transition between seasons can be a great reminder, so you can get them rotated regularly and make sure they're all four wearing evenly.
Look for rust. Winter can be hard on the exterior of a vehicle, between slick streets, salt on the roads, or other debris and rocks being kicked up by other vehicles. If there's even a small scratch or dent in your vehicle's exterior, you can invite rust. Rather than risk that level of damage, this is a great time to give your car a once-over and check for any signs of rust and address them now.
Check for outstanding recalls and electronics updates. The best way to see if your (BRAND) vehicle has a recall would be to call a certified Service Department and ask. Our Service Department in Fayetteville, AR can check their database for your vehicle's VIN number and let you know if there's any outstanding recalls. They're more than happy to help guide you through the rest of the recall repair process as well. You can also ask that your vehicle's infotainment system or computer systems need any updates.
Check for leaks. As a vehicle ages, some portions can succumb to normal wear and tear, which can cause leaking fluids. Your Service Advisor can check your vehicle for any leaks, or another tip for at home would be to set a large piece of cardboard under your vehicle while it's parked at home to see if there's any new leaks that show up, and address them from there.
Check your brakes. This is a great time for a reminder to check if your brake pads need to be replaced. While replacing the brake pads, a trained technician can also assess whether your brake rotors are in good condition. If you've been keeping up with a regular brake pad schedule for replacement, you shouldn't have to worry about the rotors every time, but it's something that does need to be checked regularly.
When you're ready to book your Spring Cleaning appointment with our Service Department for your vehicle, give us a call at (479)439-4871! Keep this list handy, and ask your Service Advisor about all these options to make sure you're keeping your vehicle in the best shape possible.